Welcome aboard TooUp
We've been creating amazing memories with our bespoke, private charters since 2015. If you would like to:
Celebrate a special occasion
See special events from a different perspective
Enjoy Sydney Harbour in luxury
Or host a unique business event for your team or clients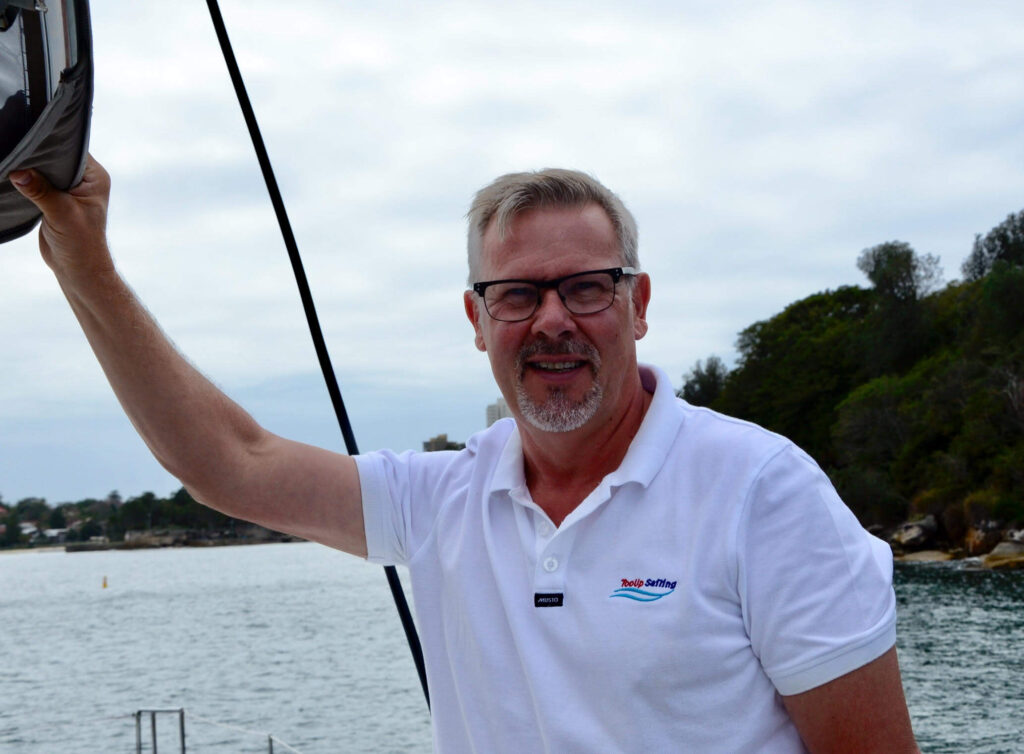 About our Skipper
Dave Williams is both the General Manager of Too Up Sailing and our most experienced Skipper. When he isn't showing guests the wonders of Sydney Harbour, he shares his skills and experience as a Senior Powerboat Instructor and Safety Boat Instructor for Australian Sailing.
Originally from the UK, Dave moved to Australia in 2015 to work as a professional charter skipper. But sailing isn't just his career. It's also his passion!
He regularly participates in competitive sailing races – both inshore and long offshore blue water races – including the Sydney to Southport yacht race. He also provides yacht relocation services between Hamilton Island and Sydney.
Dave has thousands of sea kilometres under his belt. He's a former UK police officer with over 20 years maritime experience, including almost 10 years serving as a Police Boat Coxswain (that's essentially a police boat captain). It's one of the reasons he is so safety conscious. Dave was also part of the Marine Security team for the 2012 London Olympics' sailing events.
About our Safety
We are a safety first vessel. That means:
Before we leave the wharf, we'll share safety tips to ensure your day is wonderful, memorable and safe.
Children are welcome onboard but we insist they wear a life jacket throughout the cruise and are carefully monitored at all times, by a responsible adult passenger.
Our Skippers are experienced and highly trained professionals while our Crew undertake regular training and most have completed (as a minimum) "Certificate 1 in Maritime Operations (General Purpose Hand Near Coastal)" training
All of our crew undertake regular training drills and hold qualifications which include First Aid, CPR, Working with children checks, Food Safety, Hand Hygiene and R.S.A.
A number of our staff have also obtained their Coxswain Near Coastal qualification.
Our vessel provides charter services under an Australian Maritime Safety Authority (AMSA) certificate of operation and survey and carries all of the required safety equipment in order to provide a safe environment to enjoy your charter.
Smoking is not allowed on board the vessel including in bathrooms or on outside decks
As a fully licensed vessel, we operate under the regulations of Liquor and Gaming NSW requirements.
Our COVID-19 procedures can be found here.
If you have any questions regarding your safety or the safety of your guests, please get in touch here. We will be happy to answer any of your questions.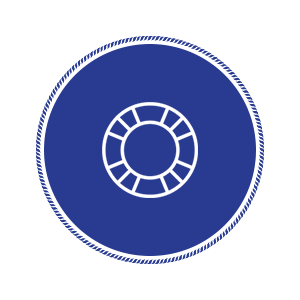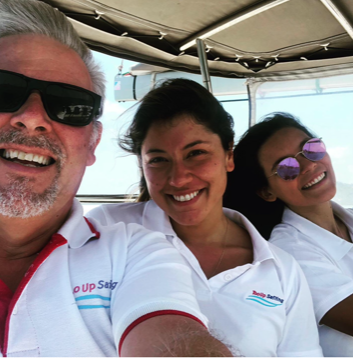 About our Team
The Too Up Sailing team are passionate sailors who love to share their knowledge of sailing Sydney Harbour with others. You will find they are friendly, welcoming, mature and very hospitable. They regularly attend training to advance their maritime skills.
About our Vessel
The Too Up catamaran is a luxuriously appointed, 40-foot French designed and built yacht. Being a catamaran, the 2 hulls ensure a smoother, more stable ride without the "lean" of single hulled yachts.
Our vessel can accommodate up to 20 guests (depending on Australian and NSW Governments COVID Health and Safety requirements which may limit the number of people onboard) or just 2 to 4 guests for an intimate Sydney Harbour cruise.
Facilities include:
Spacious covered aft (rear) deck seating area with clear, drop down blinds so you can enjoy the scenery while protected from inclement weather
Sun lounges and trapeze on the open forward deck
Dive platform, swim ladder and warm deck shower
2 stand up paddleboards and a foam lily pad and pool noodles.
2 luxury cabins with queen-sized beds and shared ensuite for overnight and short-stay Sydney Harbour escapes
Spacious but cosy, indoor salon
TV with internet and laptop connectivity
Full catering facilities – see our menu packages for inspiration or design your own menu here
Fully licensed as well as offering a wide range of soft drinks, tea varieties and coffee – just the way you like it
A Nespresso coffee machine for that special coffee just the way you like it.