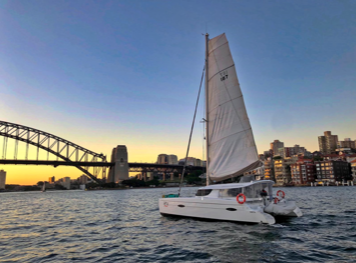 Why stay at a hotel when you can sleep on Sydney Harbour?
Cruising Sydney Harbour on board the Too Up catamaran is an idyllic way to enjoy a weekend escape or overnight break. It makes the perfect romantic getaway, couples retreat or unique family holiday. Whatever the reason, you can be sure you'll create magical memories that you'll always cherish.
Lie on sun-lounges or our comfortable trapeze and admire the view as you see Sydney Harbour icons from a totally different perspective.
You can also dive into the harbour for a cooling swim and enjoy our water sport activities like our stand-up paddle boards, pool noodles or relaxing on the lily-pad. Sydney Harbour has many private coves and secret inlets which are great for swimming and your experienced Skipper can take you there.
He'll set up a dive platform and swim ladder to make getting in and out of the Too Up catamaran safe and easy. There's even a warm deck shower to wash the salty water off your skin.
All meals, drinks and snacks are prepared by our crew and served just the way you like it – either on the covered aft (back) deck dining area or inside the spacious enclosed salon. When you are ready, retire to bed. Your luxury cabin and queen-sized bed await. The Too Up catamaran has 2 bedrooms and shared ensuite.
The gentle rocking of the boat in a quiet Sydney Harbour cove will help you enjoy one of the most peaceful night's sleep you have ever experienced. Next morning, you'll wake up refreshed, relaxed and ready to enjoy more sun, spectacular scenery and swimming fun.
For a truly bespoke, private cruise experience, ask us about our entertainment options such as:
Laser Clay Pigeon Shooting
Learn to Sail Class
Wine Tasting or Cocktail Masterclasses
Sailing to locations outside of Sydney Harbour
If you are flying in from interstate or overseas, we'll arrange all airport transfers. (This service is only available for overnight charters)